Azerbaijan - From Wikileaks leaked thousands of United States diplomatic wire messages, many interesting things revealed. Ranging from the serious, such as encouragement of Saudi Arabia for the U.S. attacked Iran, to the funny things like children who idolize Kim Jong Il's famous artist, Eric Clapton.
Another U.S. diplomat chat that is not less amusing revealed by Wikileaks. The diplomats 'ngegosipin' first lady Mehriban Aliyeva, wife of Ilham Aliyev, President of Azerbaijan.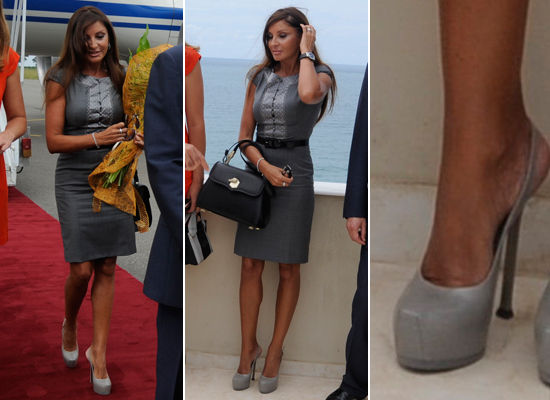 U.S. diplomat commented that often dressed Mehriban Nudity and hobby plastic surgery. In a wire message titled: "A first lady, too, in a fashion (a mother country that is too stylish)", the U.S. diplomat commented that Mehriban "is someone who bother to fashion, even daring style. Mehriban clothing style is very challenging, even for though the size of the Western world. "
One time in September 2008, diplomats busy gossiping when Mehriban incident and the girls want to welcome Lynne Cheney, wife of former U.S. Vice President Dick Cheney.
"When I saw Mehriban and two daughters, a member of the Secret Service asked the embassy officials:" Which is where the child and his mother? "
After observing for some time, the embassy employee said: "logic, the mother should be in the middle," said a message written in the wire.
U.S. diplomats also told Washington that Mehriban not mastered the true political situation in the country of Azerbaijan, but Mehriban is a member of parliament.
The diplomat informed Washington that the president's wife's family, Pashayevs family, have a strong influence in his country. Family businesses were shot, among other business banks, insurance companies, business tourism, and Bentley car showroom business. Diplomats call Pashayevs family as the most influential families in Azerbaijan
Say, she is so sexy bro! :lol: (match for hollywood star or bitch at las vegas)
Monday, December 13, 2010 | Label: Azerbaijan, Diplomat Gossip, Diplomat USA, Diplomatic, Fisrt Ladi Azerbaijan, Gosip, Gossip, News, Parlment Gossip, Sexy, Talk, US Diplomat, Wikileaks |
This entry was posted on Monday, December 13, 2010 and is filed under Azerbaijan , Diplomat Gossip , Diplomat USA , Diplomatic , Fisrt Ladi Azerbaijan , Gosip , Gossip , News , Parlment Gossip , Sexy , Talk , US Diplomat , Wikileaks . You can follow any responses to this entry through the RSS 2.0 feed. You can leave a response, or trackback from your own site.