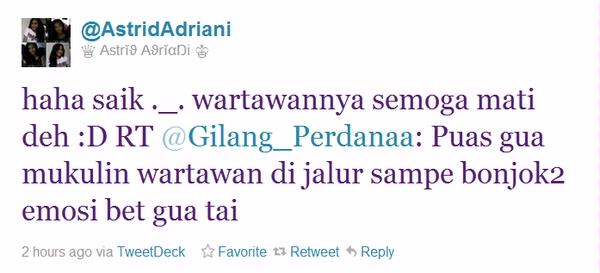 Belum usai kejadian pemukulan wartawan oleh gilang, Muncul Tweet dari seorang Pelajar yang tidak mencerminkan dirinya sebagai makhluk spesies yang di didik.
Pasalnya, "Sumpah serapah" dari siswi ababil ini menambah keruh suasana, bukanya mendoakan yg baik-baik. kena deh say..
Berkomentar di Twitter bukan tanpa etika. Salah-salah, Anda bisa dikecam beramai-ramai gara-gara komentar yang kurang mengenakkan. Seperti dialami pemilik akun @AstridAdriani, Senin (19/9/2011) malam ini. Meski tak turut dalam aksi pemukulan, ia jadi bulan-bulanan kecaman.
Gara-gara memaki wartawan yang menjadi korban pemukulan dalam kericuhan di depan SMAN 6 di Jalan Mahakam, Jakarta Selatan, tadi siang, ia harus terima kecaman banyak pengguna Twitter. Sebagian di antaranya menasihati Astrid agar lain kali jangan asal bicara.
Astrid dikecam karena komentarnya sambil me-retweet tulisan @Gilang_Perdanaa, yang mengaku turut memukul wartawan sambil . "Haha saik ._. wartawannya semoga mati deh :D RT @Gilang_Perdanaa: Puas gua mukulin wartawan di jalur sampe bonjok2 emosi bet gua t**," tulis @AstridAdriani.
Kontan, komentar Astrid langsung banyak di-reply pengguna Twitter lainnya. Ia pun menjadi bulan-bulanan kecaman di layanan microblogging tersebut. Tak lama berselang akun yang tadinya bisa dibaca publik pun ditutup. Hanya teman-temannya yang dapat melihatnya.
Namun, saat mendapat banyak kecaman, ia berdalih akunnya dibajak orang lain sehingga sampai keluar kalimat tersebut. Lewat akunnya pula, ia pun sempat berkali-kali meminta maaf atas perbuatannya. Namun, apa lacur nasi sudah menjadi bubur, komentarnya terlanjur disebar dan tidak bisa ditarik lagi. "Mahakam keras, Twitter lebih keras bung!" tulis salah satu pengguna Twitter.
Siap siap thread record ni cewe di umbar ke publik...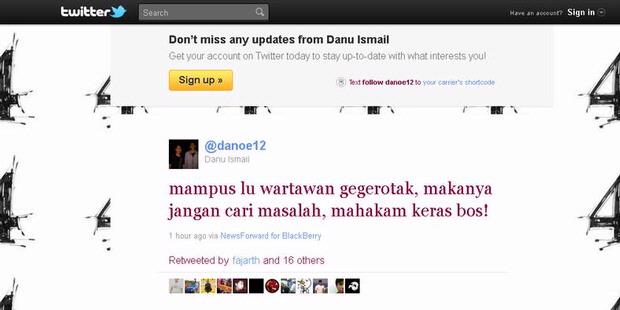 Hal serupa juga dilakukan oleh danu, komplak banget tuh bocah..
Monday, September 19, 2011 | Label: Astrid Andriani, Danu, Kicauan, SMAN 6 Jakarta, Sumpah, Tweet, Twitter, Wartawan |
This entry was posted on Monday, September 19, 2011 and is filed under Astrid Andriani , Danu , Kicauan , SMAN 6 Jakarta , Sumpah , Tweet , Twitter , Wartawan . You can follow any responses to this entry through the RSS 2.0 feed. You can leave a response, or trackback from your own site.